Come on - you remember them from PnP....
"A large group of strange Fungi are prevalent in this swamp...."
Anyone who gets too close has a chance of the shrieker emitting a scream that summons 1dX random wandering monsters appropriate to the climate.
So you want to kill them quickly...
BUT - there are spores that look just like 'em that emit a poisonous spore cloud if destroyed...
Just a thought - It seem like something ADcould figure and may appreciate (as I notice the similarities betwixt this mod and my old PnP games...in function, at least)
Kudos  -
We're having a blast

jo4n

Apprentice





Number of posts

: 20


Location

: Rhode Island, USA


Main Character

: Zander Danolement


NWN Username

: jo4n12


Registration date :

2009-02-25



Those things can be found in CEP and CCP.
added both of those to Aenea, yet I have noticed in spite of the varied enviroments he has implemented few of the creatures... in spite of only a rare few are exclusive to Orren or Aber-Toril.
I know that Shriekers are often kept in regions were they are used both as warnings against intruders as well as aids in discovering the location of prey. Exploding fungus is normally found as traps on doors, chests, and corpses. Violet Fungi, a form of carnivorous hunting mushroom that assaults with their 'ropes' are well known in the underdark of any world. And Phantom Fungi are unusual creatures found in forests and swamps with the innate ability that they are constantly invisible except when dead, they hunt all a manner of creatures. Myconids are a peaceful fungal race with very primitive society that are typically found in the underdark as well as in forests inhabited by Fey.
I believe this is a large list of fungus, some hostile (Phantom Fungi, Violet Fungi), some neutral unless provoked (Shriekers and Exploding Fungi), some friendly and helpful (Myconids).

Anthroplayer

Aenean Scholar





Number of posts

: 340


Age

: 33


Location

: Boondocks New Jersey


Main Character

: Rick Sanneset


Other Character

: Arion Bloodbane


Other Character.

: Callis Fellfair


Other Character..

: Richard Deathbend


NWN Username

: Anthroplayer


Registration date :

2008-07-22



An older suggestion, but I'm working on a few models to pull off a couple of new/old fungi specimens.
I still need to add some tentacles to the violet fungus and animate them, and I want to create a new visual effect for the shrieker for when it's going off, based on Aenea's sonic weapon visual effect.
I'm also probably going to make some smaller sized versions just as placeables for these creatures to grow amongst.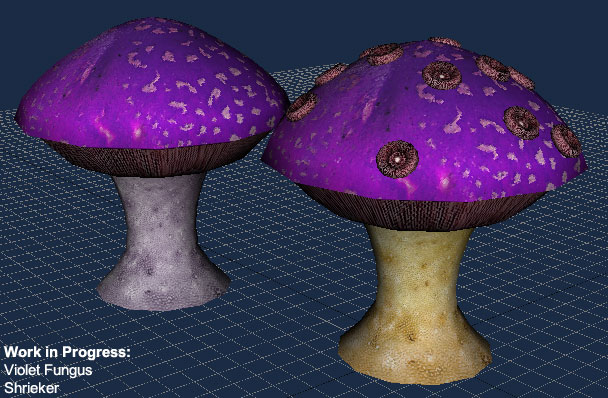 _________________
.
------------------------------------- The Amethyst Dragon -------------------------------------
Creator of Aenea | Custom Content Maker | Dungeon Master | Builder | Scripter | Writer | Player | Sleepless
Similar topics
---
Permissions in this forum:
You
cannot
reply to topics in this forum