BRAM ALLEY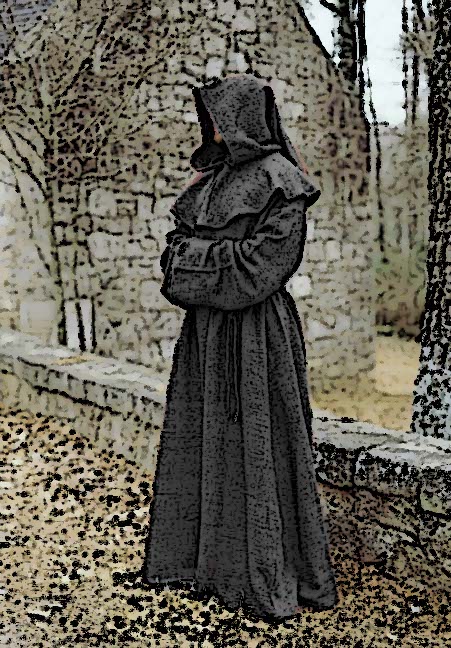 Not much is known about the mysterious hooded figure known as Bram Alley, not even his allies Derfel and Derik know much about the mysterious figure. But what is known about Bram, is that the man is a recluse. Often seen in the shadows, or by himself. A skill that may weaken some, but for Bram it is his strength. Bram has lived this way ever since he was a child. A man who doesn't know his past, his parents, or his life before "The Sanctuary".
It was a cold windy night, when there was a knock on the door of The Sanctuary. A place, a safe-haven to weary travelers. A place of security, and teaching. It was here that a small baby in a basket was left at the door step. This baby was Bram Alley. The priests there took Bram in as they looked around to see if anyone was close-by. Upon coming back and realizing the kid was abandoned, the priests and monks there decided to raise the child the only way they knew how. Raising the small boy was no easy task, besides the classes of religion, and philosophy of all the gods in Aenea, Bram was a rambunctious little boy. Often getting in trouble.
One day he got in a fight with another "student". Bram was doing his studies when another semi adult, more teenager came by and took Bram's book. Upon picking on the smaller kid, the teenager pushed Bram. This pushed Bram over the edge. A switch flipped inside of him, and he started attacking the teenager, after two or three punches the teenager was down, bleeding and almost dead. Upon seeing this a couple of the priests grabbed Bram and the other boy, and rushed them inside. With their influence in the world, they didn't let out what happened. Ultimately burying the teenager a few days later. Wanting to know what to do with Bram, the priests saw one of their usual visitors, a caravan of traders. Talking with them, and coercing them to take the young Bram with them. They reluctantly agreed and Bram was off with a new family. Thus ending his religion and philosophy training.
Bram grew up under their ever watchful eyes. Learning in the process how to fight, and learning about the actions that bought him here. Bram met a wise warrior in the group who saw the kid and realized his power was in his hands. Teaching him not only how to fight without a weapon, but to use his surroundings to his advantage. One day the caravan traveled through K'nort Scar where they were brutally attack by the orcs there. The caravan quickly got Bram out of there and told him to go and hide. Bram went into the shadows of the trees there, by the road, and hid. Seeing what he claimed to be family killed right in front of him by the brutal orcs, he found himself becoming enraged. He picked up a rock and threw it a few feet in front of him to try and get the attention of the orcs. They came over to see what was over there, and were in for a rude awakening, when Bram attacked the ten orcs, and killed them. Bram realized that he was lucky to be alive. Left barely alive and scared Bram scrapped together what armor he could to "fit in" to make his escape. Bram walked out of the woods down the road and onto the rest of his life.
After spending the night in the woods, Bram decided to go and try and figure out how he was able to still be alive. After a days journey, Bram stopped at a town, and got a room for the night. Bram asked the person at the inn where "The Sanctuary" was. The man looked at him weird, and pointed to the nearest temple. Bram went there, and found a cleric, and told them what had happened. Upon talking to the cleric, He discovered that his patron diety Lysis was looking out for him. He asked if he could study more about Lysis, the cleric agreed and showed him the library. Upon reading he realized that the goddess of luck was looking out for him. From that moment on Bram decided to devote his life to "Lady Lysis" as he called her. Upon realizing that he must move on, and try and claim onto anything from his past. Bram eventually finds his way back home to "The Sanctuary". Upon getting there, he sees what is left of his home.
While Bram was gone, "The Sanctuary" was under attack from angry locals who discovered the truth about the dead teenager. Thus destroying the safe haven. Bram realizes that his home is just like him, Bram walks in, and sees a charred robe there. Trying to wipe off the ash, but unable to due to it settling itself into the fabric, Bram places the robe on. Walking around seeing what is left of what was once a grand structure. Bram sees a black curtain, and rips it down to reveal a small library that was hidden from view.
Upon opening the door, Bram sees a book sitting on the table and opens it up. Reading the book, Bram discovers that he was dropped off there, and was given away there. Bram undoes the rope he uses as a belt and tucks away the book. Bram sits in the chair and rips off part of the curtain he was holding. Bram crudely makes a hood to hide his scared face. Bram tries the hood on. Bram sees some water sitting on the table looks in and sees himself, covered, thus deciding to finally finish his training that he started years ago, but this time with a little fighting added on as well. Bram gets in touch with himself, nature, his body, and his surroundings, able to come and go as he pleases. Bram decided that he will use this place as a "Sanctuary" for him, but is destined to walk around and travel saving those he loves, and those who are innocent from the evil that has plagued him, his entire life.
To all who look into his eyes, will see not only justice but the words on his hood written in common. "Those who are weary, to those who are tired, your sanctuary awaits within." These are the last words evil sees before they die, as they look into the glowing eyes of the protector of the innocent, Bram Alley.

Grey_Stooge

Worldly Guide





Number of posts

: 238


Age

: 36


Main Character

: Bram Alley - Shadow Stalker of Beuttleria


Other Character

: Bart Bryan - Beuttlerian SFS Warrior


Registration date :

2008-12-06



Good background

MannyJabrielle

Ludicrous Level





.

:


Number of posts

: 5927


Main Character

: See the "A-Team" thread in the Biographies forum.


DM Name

: Dungeon-Master Gaelen


Time Zone

: GMT -5:00(EST)


Registration date :

2008-07-05




Grey_Stooge

Worldly Guide





Number of posts

: 238


Age

: 36


Main Character

: Bram Alley - Shadow Stalker of Beuttleria


Other Character

: Bart Bryan - Beuttlerian SFS Warrior


Registration date :

2008-12-06



Ahhh. And now we discover why bram is such a roguish type for being monastically trained

daveyeisley

Ludicrous Level





.

:


Number of posts

: 6926


Age

: 43


Location

: Watching Aenea from my Inner Sanctum on the surface of Sharlo, Aenea's Silver Moon


Main Character

: Dave's List of PCs


NWN Username

: Dave Yeisley


DM Name

: Dungeon Master Mythgar


Time Zone

: GMT - 5:00


.

:


Registration date :

2008-06-03




Svair

Epic Level





Number of posts

: 1177


Age

: 49


Location

: Seattle, WA


Main Character

: Karamip Ningle


Other Character

: Phyllick Delucian


NWN Username

: S'Vair


.

:


Registration date :

2008-06-03




Grey_Stooge

Worldly Guide





Number of posts

: 238


Age

: 36


Main Character

: Bram Alley - Shadow Stalker of Beuttleria


Other Character

: Bart Bryan - Beuttlerian SFS Warrior


Registration date :

2008-12-06



---
Permissions in this forum:
You
cannot
reply to topics in this forum