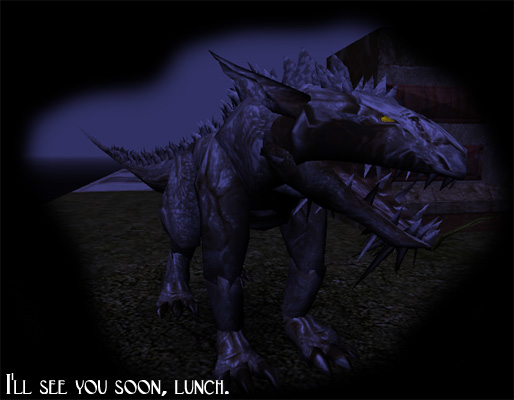 I've been meaning to find a way to add proper Aenean drakes to the game.
In Aenea, drakes are feral, distant relatives of dragons. They can't fly, and behave more like wolves than dragons. They're dangerous predators that will hunt down all wildlife (and any humanoids that get within sight) in an area before moving on to the next place.
These critters are already in the game for random encounters, but for now are using an existing dragon appearance that's as close to this as i could get. I used some parts from that dragon model, combined with a dire wolf model for animations and size comparison, added glowing eyes, and ended up with a proper dangerous beastie.
These guys will be in the next hak update, along with some other goodies.
(Yes, I sometimes have to take a break from doing the same thing every day (such as spell rescripting) so that I don't get burned out.
)
Last edited by The Amethyst Dragon on Tue Feb 08, 2011 2:58 am; edited 2 times in total (Reason for editing : Renamed Thread)
_________________
.
------------------------------------- The Amethyst Dragon -------------------------------------
Creator of Aenea | Custom Content Maker | Dungeon Master | Builder | Scripter | Writer | Player | Sleepless

daveyeisley

Ludicrous Level





.

:


Number of posts

: 6930


Age

: 44


Location

: Watching Aenea from my Inner Sanctum on the surface of Sharlo, Aenea's Silver Moon


Main Character

: Dave's List of PCs


NWN Username

: Dave Yeisley


DM Name

: Dungeon Master Mythgar


Time Zone

: GMT - 5:00


.

:


Registration date :

2008-06-03



Hmmm? Lycanthrope dragons!!!
Nope! Forget I said anything

Elhanan

Epic Level





Number of posts

: 1778


Location

: At the keyboard typing with two fingers....


Main Character

: Aargyle McJagger


Other Character

: Barnabas Bottlebottom


Other Character.

: Aarn, Aerik McJagger


Other Character..

: Azar; Briar Ironwood


NWN Username

: Elhanan the Ancient One


Time Zone

: Central USA


.

:


Registration date :

2009-06-23



Similar topics
---
Permissions in this forum:
You
cannot
reply to topics in this forum