Someone  (ShadowM) just posted some "improved slimes" a day or two ago over on the new Vault.  I downloaded them and tested them out, and they were okay...
So of course I've been tinkering with ways to make slimes and such more to my liking.  There's been slime models in the CEP for years, and a couple of nicer ones in a HotU patch.
I went ahead and stripped out the color from the gelatinous cube.  It should never have been that yellowish green to begin with.  I'm also making it more transparent.  It's always supposed to have been the thing you just blunder into because you can hardly see it in filling a dungeon corridor.
Then I hammered away at using the large BioWare ochre jelly as a starting point (much like ShadowM did).  However, instead of making recolors and adding slime trail emitters, I took things a bit farther with slime trails, varying transparencies, all new textures, different amounts of shininess, and adding to the underside of the slimes so that when they attach you can't see nothingness beneath them with lower camera angles (the BioWare slimes had no bottom).
So, the next hak update will have brand new models for 12 different "ooze" creature types...the gelatinous cube in proper colorless form, plus 3 sizes of each of 11 more creatures: oozes (crystal, grey), slimes (green, olive), jellies (mustard, ochre), puddings (black, brown, dun, white), and slithering trackers (which are dang close to invisible as they should be).
And I am now satisfied with the slimy things.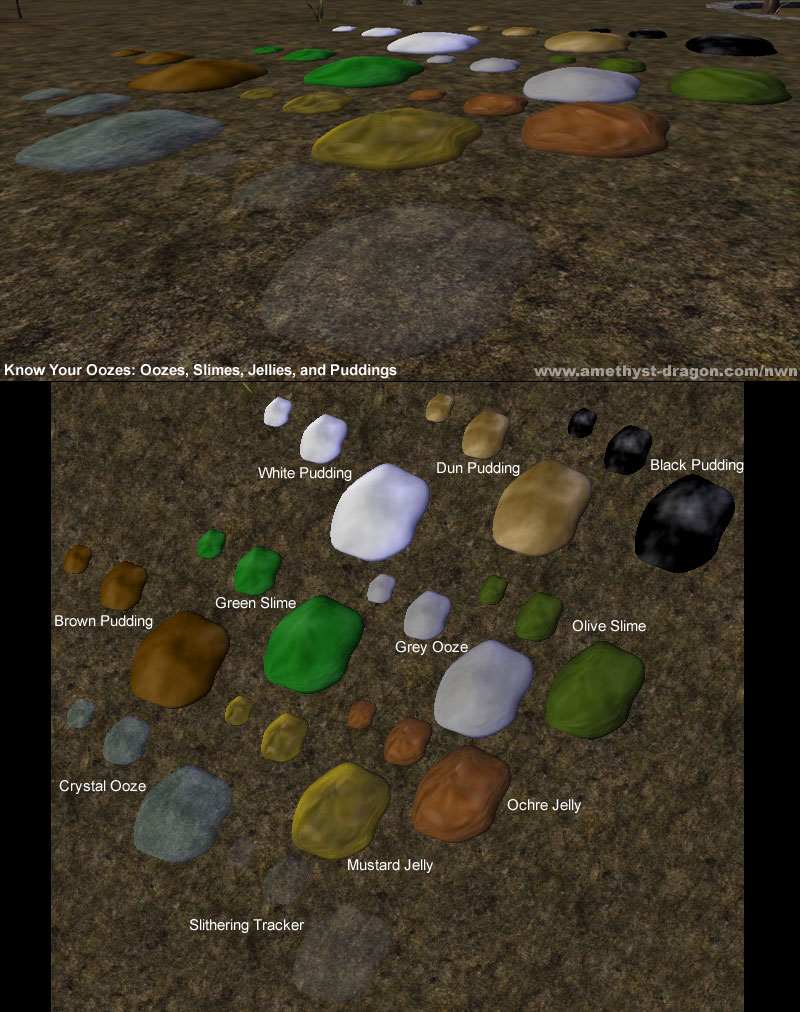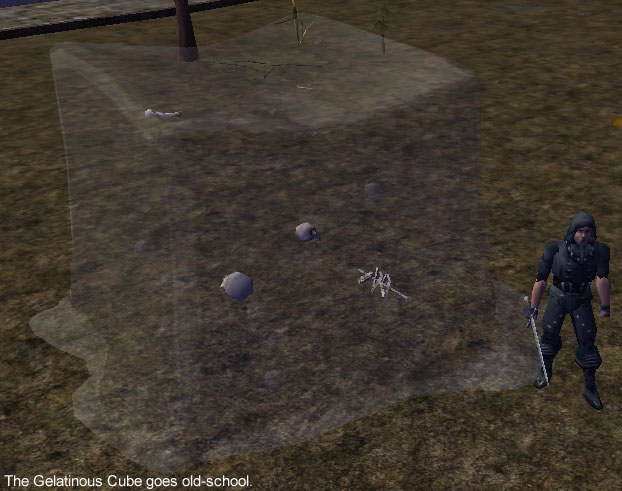 _________________
.
------------------------------------- The Amethyst Dragon -------------------------------------
Creator of Aenea | Custom Content Maker | Dungeon Master | Builder | Scripter | Writer | Player | Sleepless
There's always room for jellies....  

Elhanan

Epic Level





Number of posts

: 1775


Location

: At the keyboard typing with two fingers....


Main Character

: Aargyle McJagger


Other Character

: Barnabas Bottlebottom


Other Character.

: Aarn, Aerik McJagger


Other Character..

: Azar; Briar Ironwood


NWN Username

: Elhanan the Ancient One


Time Zone

: Central USA


.

:


Registration date :

2009-06-23



Have you been watching Disneys Lion King recently?... the title of this thread just reminded me of a particular scene in that film....
I wish I could get back on-line and come visit Aenea...
... really need an Aenea fix..

RustyDios

High Epic Level





Number of posts

: 2271


Age

: 37


Location

: England // Getting lost in Aenea


Main Character

: Jay Braysin, The Wandering Shadow, Protector of Nektaria, Talon's Eternal Foe


Other Character

: Shouri Braysin, The Shimmerstar's Moonlight Sorceress


Other Character.

: Grace Fularras, Walking Library , Cleric of Mystara


Other Character..

: See my sig ... And here too ...


NWN Username

: RustyDios


Time Zone

: GMT (England, DST)


.

:


Registration date :

2008-07-28



Similar topics
---
Permissions in this forum:
You
cannot
reply to topics in this forum