Lord Paladin and Archmage Gabriel Stern stands triumphantly over the Orc Emperor's broken
and bleeding form.
Backed by his gnomish allies, Archmage Barnabas Bottlebottom and Archmage Amaerillie, the Vile Orc Lord fell swiftly and learned a harsh lesson about consequences and repercussions for his Evil Deeds.
The Great Guardian's will is Done.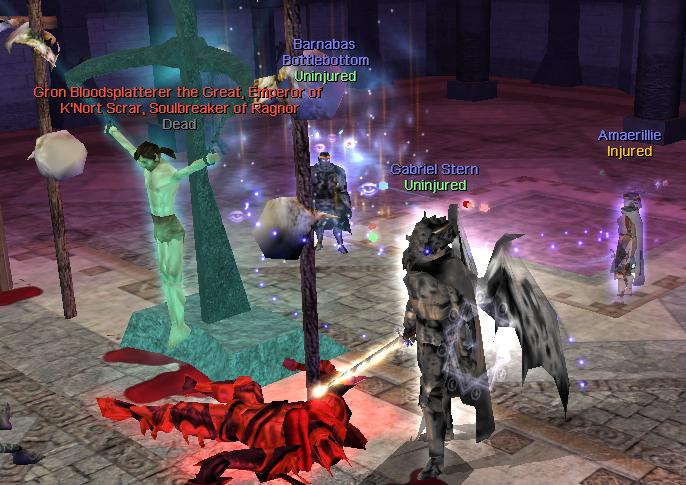 Ludicrous Level





.

:


Number of posts

: 6903


Age

: 41


Location

: Watching Aenea from my Inner Sanctum on the surface of Sharlo, Aenea's Silver Moon


Main Character

: Dave's List of PCs


NWN Username

: Dave Yeisley


DM Name

: Dungeon Master Mythgar


Time Zone

: GMT - 5:00


.

:


Registration date :

2008-06-03



Ludicrous Level





.

:


Number of posts

: 5927


Main Character

: See the "A-Team" thread in the Biographies forum.


DM Name

: Dungeon-Master Gaelen


Time Zone

: GMT -5:00(EST)


Registration date :

2008-07-05



Epic Level





Number of posts

: 1119


Age

: 42


Location

: Park View (Eldridge), Iowa


Main Character

: Sir Rayvensclaw Nightkind Leader of the Clan of Night
Paladin/Champion of Dalix/Wizard


NWN Username

: Rayven Nightkind


Time Zone

: GMT - 6:00


Registration date :

2008-09-04



Epic Level





Number of posts

: 1175


Age

: 46


Location

: Seattle, WA


Main Character

: Karamip Ningle


Other Character

: Phyllick Delucian


NWN Username

: S'Vair


.

:


Registration date :

2008-06-03




---
Permissions in this forum:
You
cannot
reply to topics in this forum