Just want to offer up words of encouragement to those building modules or trying their hand at making brand new stuff for NWN.
Just keep modding.  Keep trying.  Chances are very good that you
will
figure it out. 

Today's message brought to you by "
's current foe"...the 12-tile group that makes up the "drow temple" in the Drow Interior tileset.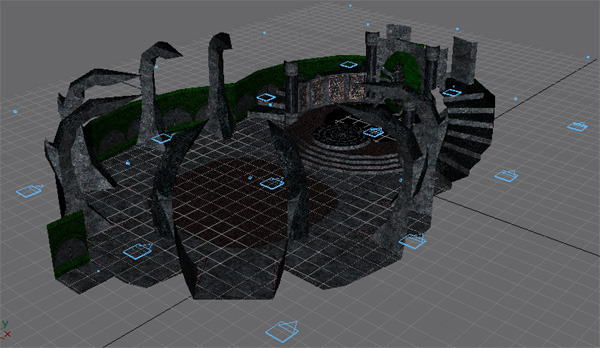 Also known as, "the last 12 damn tiles that need ceilings" before I'm finished with the tileset.  Yeah, I was in the midst of building a new temple to Sorgath in the Underdark when I was just really bothered by the lack of something overhead inside an underground building.  I've gotten the rest of the set capped, now it's just this one big group left (and a replacement for the Lloth statue with a giant cobra) before I can go back to being "productive".
_________________
.
------------------------------------- The Amethyst Dragon -------------------------------------
Creator of Aenea | Custom Content Maker | Dungeon Master | Builder | Scripter | Writer | Player | Sleepless
Ludicrous Level





.

:


Number of posts

: 7839


Age

: 43


Location

: probably on the computer or wrangling his offspring


NWN Username

: amethystdragon


DM Name

: The Amethyst Dragon


Time Zone

: GMT - 6:00 (Wisconsin)


Registration date :

2008-06-02



Hehe, chugging I am.... I'm toying aroud with redoing the orc phenotype (hopefully have something semi-functional for the CCC seeing as my orc idea is currently leading the vote race

) Poor ocs.... big shoulders and chest, skinny gnome-legs....
And heh.... that group with a cobra instead of lolth.... it makes me think of Conan the Barbarian (the original Arnie version)... where they break into the snakecult's tower and the nearly naked chick's next to the snake pit and then jumps into it.
Ludicrous Level





.

:


Number of posts

: 5927


Main Character

: See the "A-Team" thread in the Biographies forum.


DM Name

: Dungeon-Master Gaelen


Time Zone

: GMT -5:00(EST)


Registration date :

2008-07-05



"Snake farm ... just sounds nasty." Aw, man, I don't think there's a better cinematic bad guy than Thulsa Doom. I do love the fact that
spends so much time tweaking things to get just the right touch on them. Very, very cool.
Seriously Epic Level





.

:


Number of posts

: 3926


Age

: 46


Location

: Kea'au, HI, USA


Main Character

: The Vault of Atrophy


NWN Username

: atrophied_eric


DM Name

: Dungeon Mistress Anaurra Lide


Time Zone

: GMT - 10:00 EST (We have our own time zone!)


Registration date :

2008-06-06





Similar topics
---
Permissions in this forum:
You
cannot
reply to topics in this forum