Inspired by the cat pictures in the bug forum....
We got a player picture thread, but what about our furballs? Those lovable critters that like to dance across our keybaords at the wrong moments, and bat at the cursors and characters dancing across the monitors (and subsequently blocking the dang view!)
This be my ferret, Links.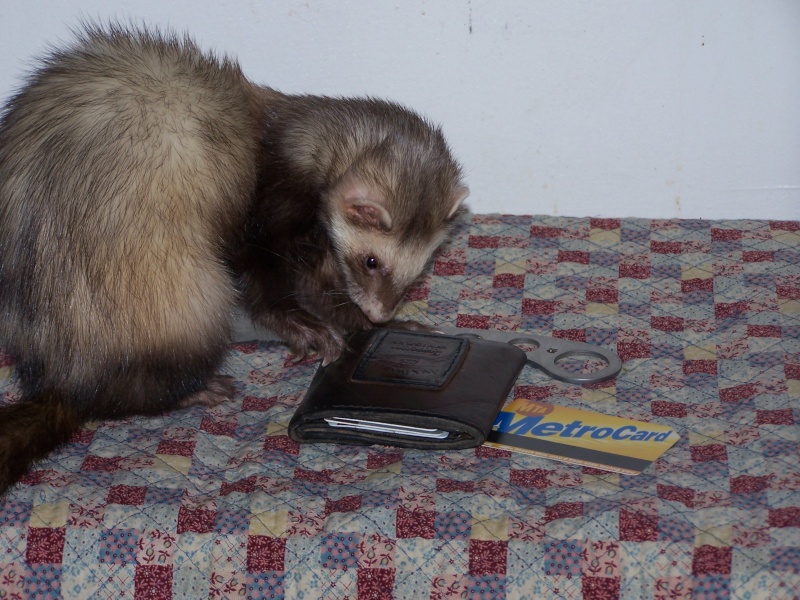 Yes, ferrets have a reputation for being little thieves, and yes, he's trying to dig through my wallet and steal my metrocard!

MannyJabrielle

Ludicrous Level





.

:


Number of posts

: 5927


Main Character

: See the "A-Team" thread in the Biographies forum.


DM Name

: Dungeon-Master Gaelen


Time Zone

: GMT -5:00(EST)


Registration date :

2008-07-05



Jeeves: 15.5 pounds of semi-social predator...in a tuxedo. Not allowed outside because he might eat the neighbor's rat (aka, ugly little chihuahua).
Felisity: cute furball that showed up at our door, mix of tabby stripes and calico
_________________
.
------------------------------------- The Amethyst Dragon -------------------------------------
Creator of Aenea | Custom Content Maker | Dungeon Master | Builder | Scripter | Writer | Player | Sleepless
Here be ours,
First is Dudley, unfortunately we had to put him down not to long ago, he was a good boy, it was just getting to painful for him to get around and it wasn't fair to keep him going just for us
Then we have Trouble, lil pain he is, always getting into something he's not sposed to.
And our lil girl, Cookie. Sweetest thing ya ever did see, but I'll be damned if her tiny butt don't rule the roost around our house, lol.
And lastly the kids together.

RayvenNightkind

Epic Level





Number of posts

: 1119


Age

: 47


Location

: Park View (Eldridge), Iowa


Main Character

: Sir Rayvensclaw Nightkind Leader of the Clan of Night
Paladin/Champion of Dalix/Wizard


NWN Username

: Rayven Nightkind


Time Zone

: GMT - 6:00


Registration date :

2008-09-04



---
Permissions in this forum:
You
cannot
reply to topics in this forum