One of these started with an old suggestion in the Suggestions section of the forum.  Just posting pics and such here for my own easy-finding use.
1st WIP pic, 7/24/2013.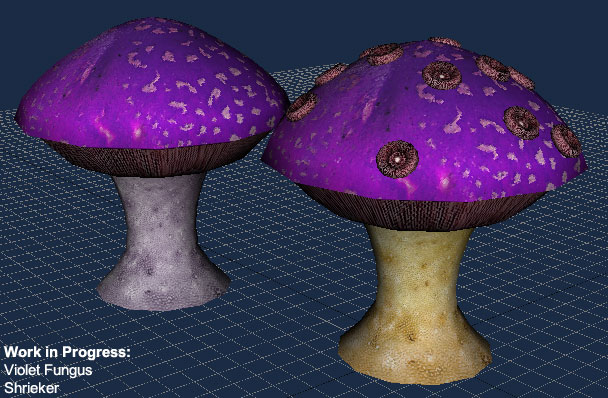 2nd WIP, 7/25/2013. 
- Resizing done to make them look a little more different. 
- Reshaped violet fungus stalk a little. 
- Added animated tentacles to violet fungus (pulled from CCP roper model, so I didn't have to make the animations myself).
- Created and tested VFX for the "sounding" of the shrieker. (not pictured)
- The new VFX will also get used for the
overpowering shout
spell after the next hak update.  Might even substitute it for various "howl" ability VFXs later.
_________________
.
------------------------------------- The Amethyst Dragon -------------------------------------
Creator of Aenea | Custom Content Maker | Dungeon Master | Builder | Scripter | Writer | Player | Sleepless
Now that's fungi growth expected to be found in deep caverns and the Underdark alike!

Angel of Death

Epic Level





Number of posts

: 1132


Age

: 406


Location

: Europe


Main Character

: Célestin Chevalier; Knight Champion of Dalix. Protector of the Innocent. Slayer of Evil.


Other Character

: Angelique Nightstar; Arcane Archer.
Personal Quote: "The way of the bow is simplicity and beauty combined with power and discipline."


Other Character.

: Bruce Li; Wanderer and Practitioner of the Dragon Paw Style. & Cherry; Starchild of Jewel n' Chancetaker of Lysis.


Other Character..

: Anna, Weaver of Illusions. - You can read about all of them following this link to their Biographies! =)


NWN Username

: I await You in the End


Time Zone

: Central European Timezone


Registration date :

2010-12-11



Similar topics
---
Permissions in this forum:
You
cannot
reply to topics in this forum