So, I was fixing an error that daveyeisley discovered I'd made (not connected the southern end of the Rift to the rest of the game world), when I decided that I needed a way to properly show the walls of that great gash in the ground. A bit of all new custom model work, and I was able to start really working on the ground along the bottom of the Rift. This area will open for exploration in the near future, after I upload a new updates hak. Just figured I'd give everyone a sneak peak.
This won't be an incredibly dangerous area, so you shouldn't need your level 40 character to explore here...or your level 20...maybe your level 10 will be fine.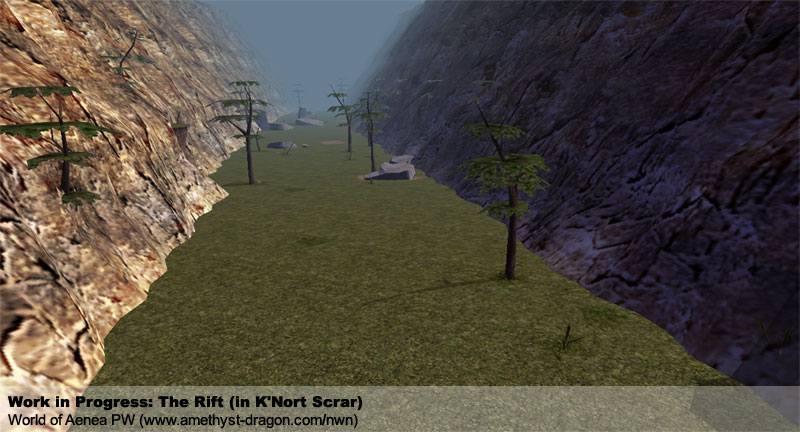 _________________
.
------------------------------------- The Amethyst Dragon -------------------------------------
Creator of Aenea | Custom Content Maker | Dungeon Master | Builder | Scripter | Writer | Player | Sleepless
Woohoo .. the great rift opens... what will this cost to the rest of the world.... the dwarves will start overflowing us all.... the denizens of Blackskull's Castle will kill us all... ... ....
Nice work
... will the rift have a top "chasm of the world" area as well as the bottom level... I'm thinking like two really tall Cliff edges that you might be able to jump over, with failure ending up with you on "the rift floor".... ... or is this not how the area's suppose to be ?

RustyDios

High Epic Level





Number of posts

: 2271


Age

: 37


Location

: England // Getting lost in Aenea


Main Character

: Jay Braysin, The Wandering Shadow, Protector of Nektaria, Talon's Eternal Foe


Other Character

: Shouri Braysin, The Shimmerstar's Moonlight Sorceress


Other Character.

: Grace Fularras, Walking Library , Cleric of Mystara


Other Character..

: See my sig ... And here too ...


NWN Username

: RustyDios


Time Zone

: GMT (England, DST)


.

:


Registration date :

2008-07-28



Wow
That looks WAY more like a chasm than the previous version!
Sweet

daveyeisley

Ludicrous Level





.

:


Number of posts

: 6930


Age

: 44


Location

: Watching Aenea from my Inner Sanctum on the surface of Sharlo, Aenea's Silver Moon


Main Character

: Dave's List of PCs


NWN Username

: Dave Yeisley


DM Name

: Dungeon Master Mythgar


Time Zone

: GMT - 5:00


.

:


Registration date :

2008-06-03



---
Permissions in this forum:
You
cannot
reply to topics in this forum