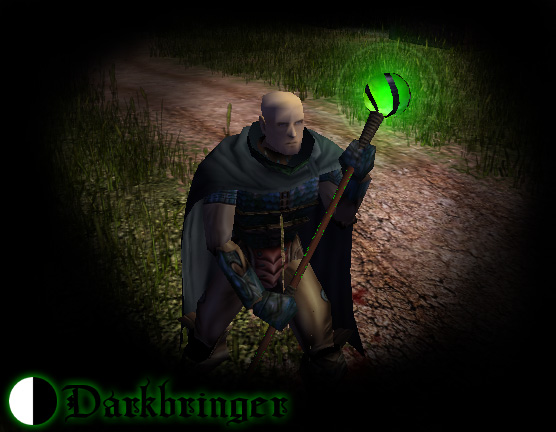 Unable to fully find balance within himself, a young demonspawn felt drawn to priestly service to the god of balance, but knew that he could only serve one side of Prizimal's balanced aspect. The young man prayed to the god of the sun and the moons for guidance, seeking a sign that might lead him to his destiny.
That very night, the young man witnessed a glowing green shooting star, which crashed to the ground near his encampment. When he searched for the fallen star, the man found a piece of brightly glowing green stone.
Seeing this as a sign from Prizimal, the young demonspawn gave up his own name, and took on the title of Darkbringer and the role of one that would bring the peace of night to those blinded by righteousness.
Darkbringer had the shard of what he believes to be Naka itself encased in a sphere of glass and mounted to a staff. He uses it as a symbol of Prizimal's favor, rarely letting it out of his grasp.
The priest travels the lands to this day, serving the Darklight and bringing night to those he deems deserving.
Last edited by The Amethyst Dragon on Mon Jan 31, 2011 10:11 pm; edited 1 time in total
_________________
.
------------------------------------- The Amethyst Dragon -------------------------------------
Creator of Aenea | Custom Content Maker | Dungeon Master | Builder | Scripter | Writer | Player | Sleepless
Excellent intro

MannyJabrielle

Ludicrous Level





.

:


Number of posts

: 5927


Main Character

: See the "A-Team" thread in the Biographies forum.


DM Name

: Dungeon-Master Gaelen


Time Zone

: GMT -5:00(EST)


Registration date :

2008-07-05



---
Permissions in this forum:
You
cannot
reply to topics in this forum