I was given access to the new fire giant model that's going to be included in the upcoming Project Q version 1.7.  Created by Pstmarie, it's a very cool model that includes blackened armor and a striking head model from NWN2.
Since I asked nicely, Pstmarie let me download the fire giant early so I could mess with it.  As is, it uses the existing fire giant animations.  I made an alternate version that uses full dwarven animations (scaled up, of course), so they'll be able to use bows, crossbows, emotes, etc. (rather than just swords/clubs/unarmed).
Not sure if he's going to include my alternative models in Q, but I'll make them available in the Aenea haks when Q 1.7 is released anyway.
New fire giant portrait I made.  It may not look it, but with his helmet this guy stands just over 3 1/2 meters tall.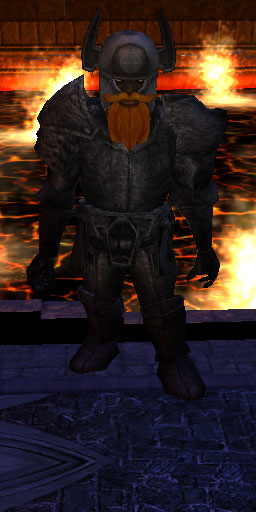 _________________
.
------------------------------------- The Amethyst Dragon -------------------------------------
Creator of Aenea | Custom Content Maker | Dungeon Master | Builder | Scripter | Writer | Player | Sleepless

MannyJabrielle

Ludicrous Level





.

:


Number of posts

: 5927


Main Character

: See the "A-Team" thread in the Biographies forum.


DM Name

: Dungeon-Master Gaelen


Time Zone

: GMT -5:00(EST)


Registration date :

2008-07-05



Similar topics
---
Permissions in this forum:
You
cannot
reply to topics in this forum