I'll be uploading a new version of the aeneahak_v.hak file and the aeneahak_updates.hak file on the 27th, which will include remade hand/glove models, plus a whole bunch of brand new models with things like jewelry and claws.
Here's a couple of examples from the toolset.  The first shows a hand model with a gold ring, set with a large sapphire.  The second is a hand with large, black claws (perfect for those wolfbloods and dragonsouls out there).
There are some minor texture issues (lines and such), but they pretty much vanish during game play.  I'm running with this hak now on my laptop, and they look darn nice.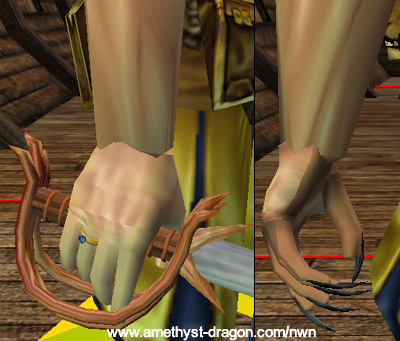 _________________
.
------------------------------------- The Amethyst Dragon -------------------------------------
Creator of Aenea | Custom Content Maker | Dungeon Master | Builder | Scripter | Writer | Player | Sleepless
So when ARE you getting employed by (Bioware) ?

RustyDios

High Epic Level





Number of posts

: 2271


Age

: 36


Location

: England // Getting lost in Aenea


Main Character

: Jay Braysin, The Wandering Shadow, Protector of Nektaria, Talon's Eternal Foe


Other Character

: Shouri Braysin, The Shimmerstar's Moonlight Sorceress


Other Character.

: Grace Fularras, Walking Library , Cleric of Mystara


Other Character..

: See my sig ... And here too ...


NWN Username

: RustyDios


Time Zone

: GMT (England, DST)


.

:


Registration date :

2008-07-28



Amazing! :O
Nice. An update on my birthday. I will consider it my present from you
! <3

Angel of Death

Epic Level





Number of posts

: 1132


Age

: 406


Location

: Europe


Main Character

: Célestin Chevalier; Knight Champion of Dalix. Protector of the Innocent. Slayer of Evil.


Other Character

: Angelique Nightstar; Arcane Archer.
Personal Quote: "The way of the bow is simplicity and beauty combined with power and discipline."


Other Character.

: Bruce Li; Wanderer and Practitioner of the Dragon Paw Style. & Cherry; Starchild of Jewel n' Chancetaker of Lysis.


Other Character..

: Anna, Weaver of Illusions. - You can read about all of them following this link to their Biographies! =)


NWN Username

: I await You in the End


Time Zone

: Central European Timezone


Registration date :

2010-12-11



---
Permissions in this forum:
You
cannot
reply to topics in this forum